Product Recalls in the US: 2017 Statistics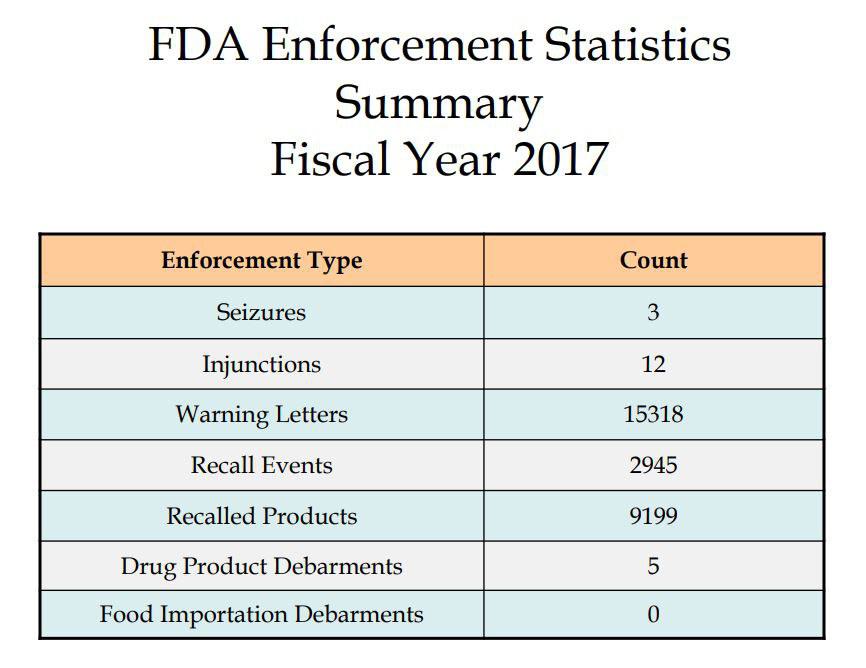 As the agency that watches over product safety, the Food and Drug Administration (FDA) sometimes must take action to protect consumers from potentially dangerous items. A recent column in Med Device provided an overview of the FDA's just-released 2017 enforcement statistics, which cover every action they took, from warnings to recalls.
Seizures occur when products are not in compliance. Perhaps they're mislabeled, or a batch has been tainted. There were three product seizures in 2017, as compared to four in 2016 and 15 in 2011, according to the report.
Injunctions are court-ordered requests to refrain from certain actions. There were 12 injunctions in 2017, as compared to a high of 21 in 2015, noted the report.
Warning letters advise about specific violations. In 2017, there were 15,318 warning letters issued. That's more than the 14,590 in 2016 but less than the 17,232 in 2015.
Debarment is when an individual or company is banned from working in an industry, temporarily or permanently. In 2017, there were five drug product debarments.
Recalls of products happen when there are safety concerns. A Class I recall means there is reasonable probability that a product's use will cause "serious adverse health consequences or death," as per the FDA. A Class II recall occurs when use of the product may cause temporary or medically reversible consequences. A Class III recall is when exposure to the product is not likely to cause health consequences. In 2017, there were 9,199 recalled products, the majority of which (6,933) were Class II recalls. There were also 1,447 Class I recalls, and 816 Class III recalls.
The article also shared conclusions based on an analysis of data from the Center for Devices and Radiologic Health for 2008-2017. You can view the full report of FDA product recalls and warnings online.
It's important to note that the FDA doesn't always get to an unsafe product first. If you or a loved one have been injured by a defective product, contact an experienced product liability attorney in Philadelphia to discuss your legal options.