Duffy + Fulginiti Featured in 2018 PA Law 100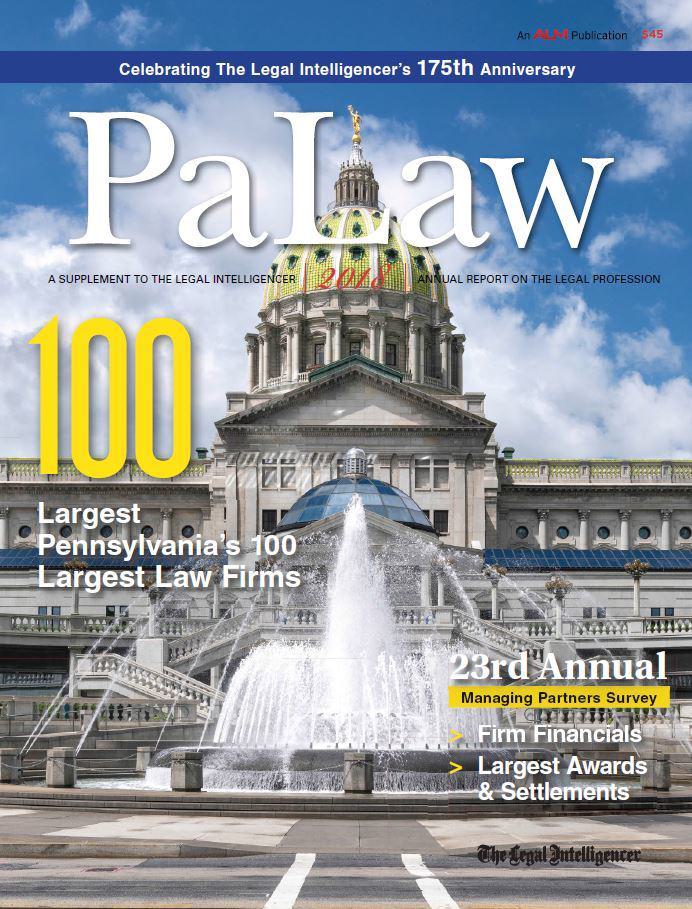 (Philadelphia) – Duffy + Fulginiti attorneys were recognized for the largest settlement in Pennsylvania and other top verdicts in the 2018 edition of PaLaw, the Legal Intelligencer's annual report on the legal profession.
The #1 listing for the largest awards and settlements in Pennsylvania went to Duffy partners Ken Fulginiti and Sarah Dooley for the $160 million settlement in Galdamez v. U-Haul. In this wrongful death suit, the Duffy + Fulginiti attorneys fought for justice for the victims of a food truck explosion that killed two and severely burned a young girl in Philadelphia. They were able to show that U-Haul was at fault, illustrated by a complete breakdown in safety protocols, including use of a faulty, out-of-date propane tank and lack of training for U-Haul workers.
Fulginiti and Dooley also were recognized for the 15th largest award and settlement in Pennsylvania, a $9.3 million verdict in Nguyen v. Vinh Hung Enterprise. In this product liability case, a Reading, Pa. man was severely burned and permanently injured by an explosion of a gas-powered stove. The attorneys proved that the defendants committed violations of negligence, strict liability and breach of warranty in defectively designing, manufacturing and selling the stove.
Partner Tom Duffy was recognized for the 26th largest award and settlement in Pennsylvania, a $5.7 million verdict in Williams v. Aria Health. This medical malpractice case involved hospital staff who failed to diagnose a patient as a suicide risk. As a result, the patient jumped from his fourth-floor hospital room, fracturing his vertebrae and requiring extensive surgery. Duffy proved negligence by the hospital.
Published by the Legal Intelligencer, PaLaw chronicles the 100 largest law firms and the largest verdicts and settlements in Pennsylvania. The 2018 edition is the 25th one published, on the occasion of the Legal Intelligencer's 175th anniversary.
Duffy + Fulginiti, founded in 1988 by Tom Duffy, is committed to making a difference in the City of Philadelphia through its advocacy of victims of catastrophic injury and their families. To learn more, visit www.duffyfirm.com.